Why should I participate in this ornamentation project campaign?
Ornamentation project improvements to Wheaton Park will provide social, recreational, and economic benefits to our residents/non-residents and help make our township more attractive to new citizens and businesses.  Fundraising campaigns offer the community an opportunity to make a donation, memorial gift, or in honor gift with long lasting benefits to our area.  By allowing for resident/non-resident and community donations this brings a sense of community ownership to this project, unifying our commitment to the park.
Phase 1
Phase 1 Features:  11 Bushes, 3 Shrubs, 14 Trees, 2 Picnic Tables, and 7 Benches
Phase 1 Investment:  $7,850
Phase 1 Projected Completion:  Fall 2022
Phase 2
Phase 2 Features:  3 Bushes, 3 Trees, 3 Picnic Tables, and 9 Benches
Phase 2 Investment:  $5,400
Phase 2 Projected Completion:  Fall 2024

Frequently Asked Questions
What is the Wheaton Park?
The Wheaton Town Park is located on the same property as the Wheaton Fire Station consisting of 63.7 acres.
Park Features:
Three baseball fields, batting cages, and pitching warm up areas
Tennis/basketball court
Gaga ball pit
Two open sided covered pavilions
One multi-use building
Two Playgrounds
Ice skating rink
Sledding hill
Snowmobile trail access and trailer parking
Hiking and snowshoeing trails
What activities and events can be held at the park?
Baseball tournaments, tennis, non-profit fundraisers, social gatherings, reunions, graduation parties, celebrations of life, weddings, ice skating, sledding, and hiking.
What are the established recognition levels for donations?
Bush ($50), Shrub ($100), Tree ($200), Picnic Table ($350), and Bench ($500).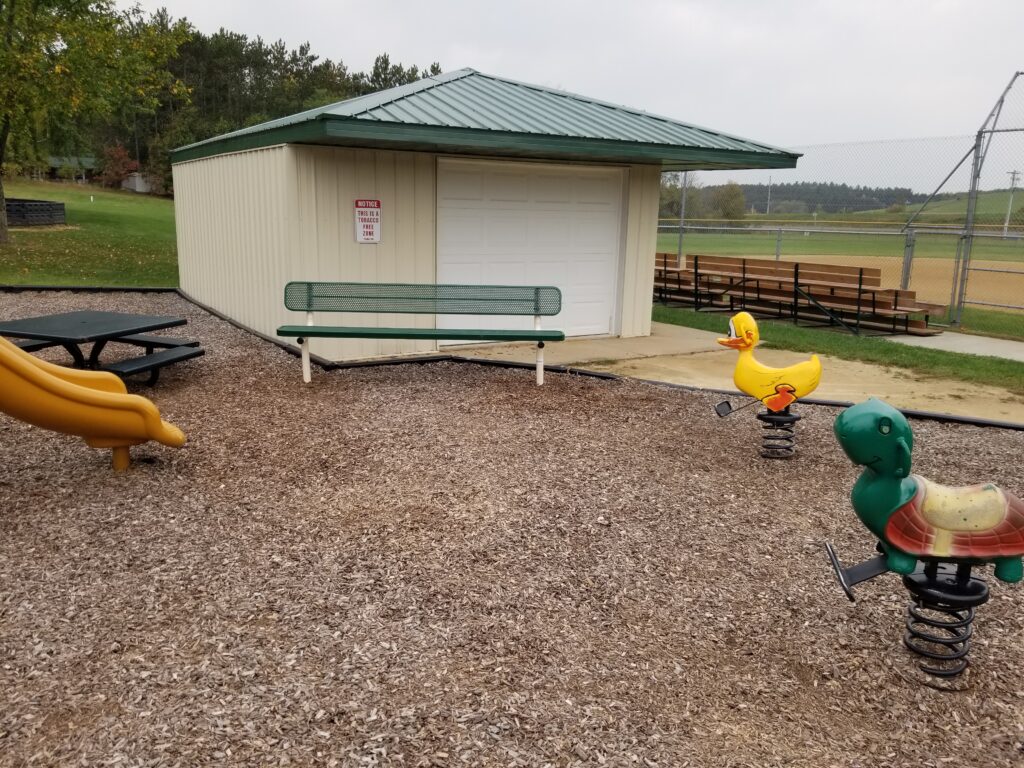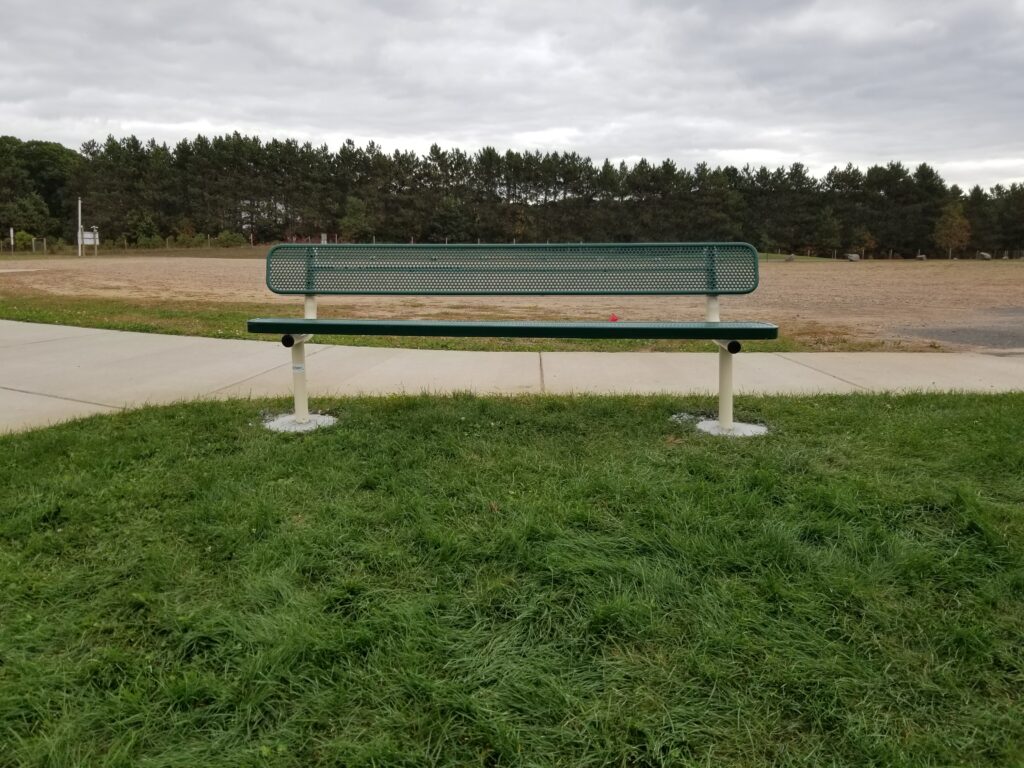 What if I want to donate something other than established donation recognition levels?
The donation form has an option called PARK IMPROVEMENT with a field where you can write in your idea.  These ideas will be reviewed/accepted by Wheaton Parks Commission to ensure all costs are covered, ongoing park maintenance costs have been reviewed, and both short and long term park goals are met.
Donors can contact any Wheaton Parks Commission member if they have questions on their park improvement idea.
Example:  In 2022 through a collaborative project of donors, Wheaton Parks Commission, and Wheaton Town Board, a 4' x 9' scoreboard that was 100% funded through specific park donations was added to Prairie View Field.
What are the estimated costs of Phase 1? 
Phase 1 - $7,850
What are the estimated costs of Phase 2?
Phase 2 - $5,400*
*Please Note:  Phase 2 will not start until Phase 1 is completed and the upper concession building/pavilion work is completed.
When is the ornamentation project scheduled to be completed?
Phase 1 – Fall 2022
Phase 2 – Fall 2024
Is there a map showing where donations would be located?
An ornamentation project map of Wheaton Park showing approved locations for the different Phase 1 and 2 items is posted at Wheaton Town Hall, Wheaton Park Concession Building, Town of Wheaton Website, and Wheaton Parks and Recreation Facebook page.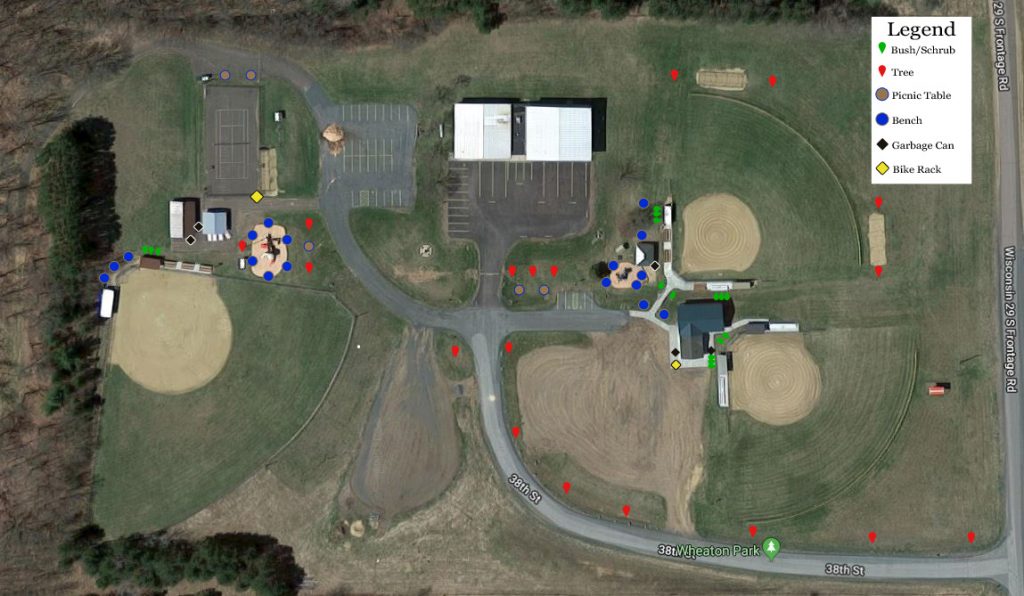 Who is managing the ornamentation project campaign?
The Wheaton Parks Commission will be managing the ornamentation project campaign.
What is the Town of Wheaton's commitment?
The Wheaton Parks Commission has applied for previous grants to do various park improvements.  The Township is committed to improving the park by allocating annual budget funding for repairs, maintenance, and improvements.
 Is my contribution tax deductible?
Contributions are tax deductible to the extent allowed by IRS standards.  A receipt will be issued for contributions.  Questions regarding the best tax impact for your specific donation should be referred to your tax advisor.
Donor Recognition Plan
All contributions will be recognized on a donor board unless otherwise selected to remain anonymous.
Where do I send my donation?
Ken Books
Town of Wheaton Parks Commission Chair
1121 40th Street
Eau Claire, WI  54703
I have additional questions?
For any additional questions, please contact any Wheaton Parks Commission Member.